Hello, everybody! Today I would share with you guys good news–iPhone 12 standard charging cable makes public.
With less than two months to go before the release of iPhone 12, all kinds of information has been leaked everywhere recently.
Of course, there are revelations every day, so if it's reliable, it's another story. However, during this period of time, there is still much discussion about the charging of iPhone12, after all, after reading the previous message about battery capacity, (iPhone 12 battery is certified, the capacity is getting smaller) Some of you may not be able to keep calm anymore, but rest assured, iPhone12 must still support fast charging.
iPhone 12 standard charging cable makes public with USB-C to lightning wire
Although headphones and charging heads may be cancelled, but there will still be data cables. This time I got from the charging head network, they got a USB-C to lightning wire from a special source, suspected iPhone 12 standard fast charging line.
See, there will still be….wait, How has it changed? This USB-C to lightning wire style is very similar to the original Apple process, but the braiding process is used.
By photographing the details of the Lightning terminal head, compared with the gold-plated Lightning contacts of the old non-quick-charge wire, the eight silver contacts of this wire are rhodium-plated ruthenium process.
The effect of rhodium and ruthenium plating is better than that of gold plating, it can effectively prevent the gold finger of the contact from being corroded by sweat, liquid and so on, it'll be more durable. Let's take a look at the skin technology, the two gray-and-white filaments are twisted and mixed in a 2-to-2 interlaced way. Compared to the common TPE skin, have better wear resistance.
For a long time, the matching wires of iPhone are made of PVC and TPE skin, Is it going to be a change this time?
Internal test information of the Lightning terminal head
Subsequently, they also have professional equipment to read the internal information of the Lightning terminal head. It can be seen from the screen that the wire rod ASIC and PMU are all original. The terminal type is C94, and the score reaches 100. It is the original terminal head certified by Apple MFi.
Use the Apple 96W PD Charger to charge the iPhone11 Pro Max, the power can reach 8.98V 2.52A 22.68W, reach the peak power of iPhone11 Pro Max.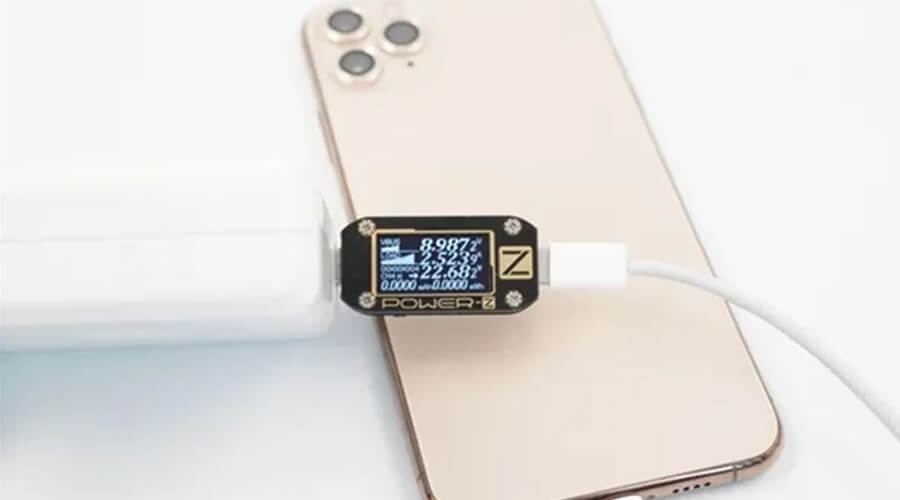 But is this the standard wire for iPhone 12 or not? At present, it's hard to say, but I'm looking forward to it. After all, this kind of woven material is really durable. So, what kind of material do you want the standard charging line for iPhone 12 this year? Welcome to share with us SUP.